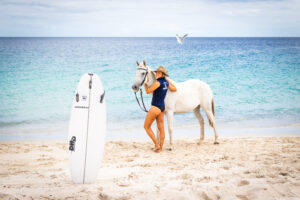 We love taking out beach horse rides, but there's a few things to consider beforehand!
The Beach Ride is now part of a two day trek called The Weekender.
IS THE BEACH RIDE AVAILABLE AS A SEPARATE RIDE?
You will be able to join a beach ride as a stand alone ride, however the following conditions apply:
If you have not ridden at Jesters Flat before, you will need to come out to the farm for a 10-15minute ride prior to the beach ride. This may be completed early on the morning of the beach ride. This assessment ride is included in the price of the beach ride which is $360pp.
Previous riders at Jesters Flat, with considerable experience, can just meet us at the beach.
DO I NEED SPECIFIC EQUIPMENT?
When you arrive for the assessment ride, we will also allocate helmets. boots and reef shoes. This part of the beach ride process also gives us the opportunity to allocate the correct horse and tack for the rider.
AM I ABLE TO SWIM WITH THE HORSE?
This option is available at the end of the beach shoreline ride. The Guides will instruct you on the safe way to proceed.
CAN I BE A BEGINNER HORSE RIDER?
No, this ride is not suitable for beginner riders as there are a  high number of variables in the open beach setting.
IS THE BEACH CLOSE TO JESTERS FLAT?
The beach ride takes place at Forrest Beach Busselton. This is a 45minute drive from Jesters Flat. We meet our guests at the beach, as we transport the horses via truck.
DO WE BRING A CHANGE OF CLOTHES TO SWIM WITH THE HORSES?
Yes, it's best to ride in all your regular horse riding gear on the beach. When we go into the water you will then ride bareback, so you are welcome to change into swimmers or exercise gear. You can also wear these under your riding clothes. You will need to wear your helmet and reef shoes in the water. This is a regulation from Horse Safety Australia.